Maria YuDecember 6th, 2006
On Columbus Day weekend I went to a retreat called dance meditation. This dance meditation was led by Dunya (Dianne McPherson). I didn't know Dunya before I went to the retreat, I found her through Goolge search by typing "dance" + "meditation". I called Dunya two days before the retreat and rerolled myself up. When I arrived at the mansion in Philmont, NY, where the retreat was held, and met Dunya, Annemarie, Kate, Nisaa, Sandi, Shakti, Zahava and Ric the first time, I felt I had known them before and I felt fit in.
I always love to dance and have been taking ballet and jazz lessons even now in my middle age. I also like to meditate to center myself. Conventionally meditation is considered a passive act and people need to sit still with empty mind. However, I found myself being very focused and clear of "monkey thoughts" when I dance. So I had an idea about combining dance and meditation together. I thought I should find out if there were people doing it and how. When the brochure of Omega institute arrived I saw "Dancing Cello, Dancing Tao" being taught by David Darling and Chungliang Al Huang at Omega institute. They collaboratively and creatively combined tai chi movement and music. That seemed to be a wonderful practice and was dance in nature. Then one day when I had time to ponder upon the idea again I found Dunya and her retreat.
When I received the warm greetings from Dunya and everyone I was very much comforted. Together we moved furnitures and arranged the space for our dance meditation. We also took turns to prepare meals.
Dunya has trained extensively in yoga and in the shattari method of sufi movement meditation and is an experienced teacher. That retreat was my first exposure to sufi movement. As the middle Eastern music played in the background we learned movements from Dunya and we moved from within ourselves. It was a kind of improvisation, an improvisation that just let the body be and guide. Quite liberating. Every cell in my body knew its movement and it wanted to dance freely. No thoughts, just feeling and being. It was like a celebration and an embracing of who I am and who everyone is. We had moments of "lead-and-follow" when one person would do her/his movement and everyone else paid attention to the movement and followed it. Everyone was appreciated of who they were, no judgment and no criticism. It was welcoming and assuring. I felt honored.
On Sunday morning we had time for reflection and to write down our thoughts. Early that morning I went out to drive along the country road in Philmont and saw the Sun rising up from the foggy mountains and open land. I wrote down:
"Being here is so out of blue yet so fit in.
I just know I am having a whole new life.
It's up to me to declare and get and do what I want.
Here is big and open.
I am unrestricted."
That dance meditation retreat was a touching and profound experience for me. Coming out of a rigid work environment to meet Dunya and everyone of open mind and joyous spirit was a blessing. They are light beings. They helped me perceive life differently.
When I got home I opened up my sketchbook of 2002. There were pages of quotes I jotted down while watching "Martha Graham: The Dancer Revealed."
Here is what Martha Graham said about dance and about her wanting to be a dancer:
"Movement never lies.
Your heart reveals by what you do in your movement.
The passion creates beauty. I work in life.
I want something more.
It takes God to make me great.
I don't have other choices, because I want it.
And because I want it so I do it.
Dancer is the music, music follows the dancer.
I will never give it away, ever.
Dance connects the body with emotions, spirit and movement.
The center of the stage is where I am."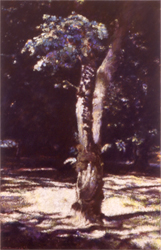 "Center Stage" – pastel painting by Maria Yu