Maria YuNovember 14th, 2006
I went to New York City for 3 individual workshops held on Friday night, all day Saturday and Sunday, Oct. 27-29. The first workshop was about seeing auras, viewing past lives and connecting with spiritual guides, the second was "Angelic Seals," and the third was about the shaman's challenge and identifying patterns.
I told the teacher before the class I was there to "meet" my spiritual guide to find out my life purpose. She knew I misunderstood the "content" of the class. The class was to teach people to visually "see" auras and angels and spiritual guides but was not geared to get guidance from them. She said since I came all the way for her if I attended Saturday and Sunday class she would give me information after she got into my aura to study me.
Friday night I did see some people's auras and their vague past life features and some "undefined shapes of white light." I asked the teacher "are angels just white light?" She said yes, angels are "just" white light.
Saturday the teacher taught us how to create Angelic Seals. It is an ancient teaching and has been quite forgotten. The teacher said angles first give us what we need then they give us what we want. The more service we give the more we get. Service and gratitude is all that is about life. To create a seal we first have to ask ourselves what do we want and write it with no more than four words. Quite a few people asked how to phrase their questions if they wanted money or clients. I thought I should ask something similar so I asked "how about abundance?" The teacher looked at me and said "You don't need to ask for abundance, you have everything. You have now set out your spiritual journal, what you need to ask is clarity and direction." It hit me hard. Yes, I have everything, I never realized that all along I had everything.
Sunday the teacher really challenged everyone. She asked each of us what we thought our root causes and patterns were. I said mine and she said it's all shits. She said to me "You don't know how much light you have and you don't know how much power you have."
I wished she could tell me more and direct me to the right path. Maybe that would have to be through a session, but I didn't feel I needed one and didn't like spending more. ( I wasn't comfortable about the hosting spiritual healing center selling a bottle of 10 fl oz water for $2.) Maybe she already told me what she could. It's now up to me to find my way. After all, only I know better about myself.
Before I left for New York I searched on the Internet to find dance studios for ballet and Jazz classes. NYC is a heaven for dance I don't want to miss the opportunity to dance while I am there. I bought a 5-class pass from Broadway Dance Center and went to four ballet classes and one Jazz. Broadway Dance Center has dance classes all day long. Of the four ballet teachers I took class from I respected one very much. Normally a good standard dance class is one and a half hours long. This teacher had his Advanced Beginning classes for one hour and forty-five minutes. I could definitely see the reason for it. The studio has classes one after another. Having extra fifteen minutes can loosen up the hassles in the beginning and end of the class so students can get a class of complete one hour and a half. This seems to be a small detail but I have gone to many classes where the teachers started late and ended earlier so the classes were never one and a half hours long as scheduled. This teacher I respected was very precise about each movement and he cared about dancing "in" music. He gave clear corrections which many of them were what I needed to worked on. He saw at some point my mind being somewhere thinking about my path so he said "some of you should be more in their mind." When we held our arms up he even used the words "feel what kind of energy you hold there." I thought he was kind of a spiritual person. Towards the end I guess I upset him. Right after he finished explaining how to put ourselves in a combination he just taught I asked him a movement within the combination. He was not happy I asked. Later in the dressing room I asked other students was it not OK to ask questions. They said "don't worry about it, he is mean. He is like that." I said I was to tell he how good he was. They said "don't do it, he knows how good he is." I have great respect for this teacher. He has a high standard. He knows how good he is and he keeps it up.
I went to the Museum of Modern Art on Monday and came home on Tuesday. From Monday to Tuesday while in NYC I stayed with Elenore in Long Island City. Elenore talked about her ideas for renovating her warehouse and mill. She knows more about buildings and constructions than I do yet I have Civil Engineering degrees. She said from her experiences she would not trust "experts." On Tuesday morning when we walked to the coffee shop for breakfast she picked up paper trash and rolled back garbage bins along the way. The garbage pick-up truck had just left. She said she could not understand why these garbage pick-up people could not do their job right. Indeed I had wondered about that. I was amazed how these people handled (threw) my garbage bins and how often the garbage was not all picked up. Elenore also picked up morning paper from the benches in the park. She said this is what humanity is all about. You have to care about you environment. She is a multi-millionaire and she picks up trash. The workshop teacher also talked about humanity and likely she is a millionaire too. Both are doing humanity work.
I had a lot of fun in NYC. There were people all the time and people eat all the time. There were vendors on the streets, depending on the location, they sell food or they sell perfume or they sell art. No matter what they sell, it would always be a bunch of venders selling the same thing. How do they make money? That weekend was pretty chilly. These vendors have to stay in the cold air for hours. What happens in the snowy winter? Every morning they get up early to the street to start their business and go home at night. I guess they must be making a living this way. The Big Apple really takes care everyone. But do they have a life purpose? Do they even have the luxury to think about it? How about the chefs and waiters/waitresses in the shops? I went into quite a few cafes and bakeries to see what fancy pastries NYC had. Most of the workers were Mexicans it seemed. But they were nice to me. Monday night after the ballet lesson I was hungry so I went into this Euro cafe right at the corner. I looked at the special and asked the chef what else I could get if I didn't want the mashed potato. He grabbed a few stems of broccoli to show me. I said OK so he prepared my fish with broccoli. The pastry counter's chocolate twists looked promising. I pointed to the waiter "I want that one with more chocolate on the top." He pulled the whole tray out to let me pick. Their niceness really made my day. I strolled along Chinatown too. A lot of people and a lot of food.
I seldom walked on downtown streets just for fun. Even when I worked in Chicago I didn't stroll down streets for the sake of walking on the busy streets. I know I had been thrilled by walking on Michigan Avenue near the water tower. That openness of the space ahead was something I would never forget. Oh, the Christmas lighting in Chicago was something I enjoyed too. However this time in NYC I was really walking on the streets and having fun. I looked at people on the streets and people on the subways. I had an awaking that I am here to enjoy life. Before I was living but now I am aware.
………………………………………………………………………………………………….
I met Elenore at a unique and refreshing dance meditation in Philmont, NY. Dunya led a dance meditation retreat at Elenore's mansion. (Please see my post "Dance Meditation" to read more about this retreat.) The mansion is an old landmark and Elenore is repairing it. After the Columbus day weekend retreat Elenore invited me to go along to see her warehouse in Long Island City. The warehouse is the "Metropolitan building." It's a space for weddings, photo/film shoots and antiques. The building is a dramatic place. While I was walking down the floors among the antique furnitures I felt like being in Bergman's movie "Fanny and Alexander," having a fun and fascinating feeling.
Elenore was born and grew up in Germany and went to graduate school at Columbus University in NY. After she completed her graduate study she enrolled in Bloomingdale's executive program. She said, however, she didn't like it. All her classmates liked the program so she couldn't understand why she was the opposite. Everyday she dragged to go to the class until one year later she was expelled from the program. The reason was that she was not subordinate. (I burst into laughter, that's what people have been telling me who I am.) After some work of rebuilding herself, she started her own interior design business and got into antiques. She became successful. She said she observed how people do business and learned along the way. When she saw people do something she would tell herself, "I can do that too." With a understanding of herself and determination, she tapped on the energy and manifested. She knew "The Secret."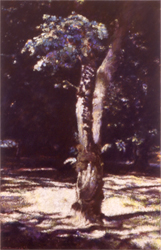 "Center Stage" – pastel painting by Maria Yu
(A scene in Central Park)