Maria YuFebruary 11th, 2007
A first note: I changed the name of my web site postmemorial.art-life-spirit.com to eternalexpression.art-life-spirit.com. This was an evolving precess by itself.
Initially I created postmemorial to post mandala in memory of my beloved rabbit and cat and to extend the offering to others who have lost their loved ones, human and animal. Then I started creating mandalas and kaleidoscopes for the writers and artists who had inspired me. At the same time I wrote Self-Expression and Human Existence and About Beauty. I realized that I was drawn to "perform" the beauty of those great masters who had expressed themselves. So I started posting tributes to those who had self-expressed.
I transform my own digital images and the images in the public domain into mandala, kaleidoscope, and sacred geometry art. In the process of doing the transformation, I learn new things about these artists at subtle levels. Things that I didn't know from the visual perspectives. A little bit like I am decoding/retrieving the essence of the paintings, or the artists. It seems I enter their heart world.
There are so much to see in these mandala, kaleidoscope, and sacred geometry images. They disclose magical, mystical, spiritual, and meditative feelings. I feel myself being transformed.
This week I decided to post a tribute to Monet, without the approaching of Valentine's day in mind. Monet used lots of colors, seldom just big areas of pure red. However, as I was working on creating circles and shapes I saw Monet's paintings evolve themselves into hearts, red hearts, pink hearts, orange hearts, brown hearts, and ceramic hearts. The last mandala I got was like diamonds that people would use for Valentine's gift (maybe). I smiled when I saw these reds and hearts.
"Monet was… the most daring and athletic landscape painter of his generation, braving the elements, often in solitude, to record snow, crashing surf, and blinding sunlight in strict accord with the on-the-spot work ethic…" edited by Charles F. Stuckey in "Monet: Water Lilies."
"Work ethic" I saw. Monet wrote himself too that "You know that I am absorbed by work." And he said "People who hold forth on my painting conclude that I have arrived at the ultimate degree of abstraction and imagination that relates to reality. I should much prefer to have them acknowledge what is given, the total self-surrender."
"I set my easel in front of this bit of water
that adds a pleasant freshness to my garden;…
you ascertain in it,
as in a microcosm,
the existence of the elements
and the instability of the universe
that changes from minute to minute
under our eyes…
The richness I achieve comes from nature,
the source of my inspiration."
Maybe it's Monet's surrender to the nature and his passion and dedication to paint the water and reflections that manifest into reds and hearts. Aren't these virtues of Valentine's?
As for the kaleidoscopes, Stuckey noted in the book, "impressionist painting was an attempt to record the kaleidoscopic play of light registered instantaneously on the retina in a glance." Perhaps my mandala, kaleidoscope, sacred geometry art captures the immortal genuinity in a glance.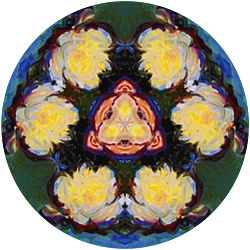 The Water Lilies mandala by Maria Yu