Maria YuDecember 28th, 2006
The second day of Christmas I went out for a walk, a lady drove by and stopped to ask me "How do I get to the north entrance?"
I live in a community with trees and hills in a natural environment not much artificially developed. For people from outside it's not easy to find ways around. There are two entrances to get into the community, the main entrance and the north entrance. The main entrance has a big sign and flags, while the north entrance is basically just a small road to turn to get into. There is the community center and sewer office by this road of north entrance. Personally I don't think the community office does anything so people have no need to go there. The sewer office is pretty much for people to walk in to pay bills. I wondered where this lady is going to the "north entrance" during holidays and in fact she is already "at" the north entrance.
So I asked her "Where do you want to go?" She replied, "I want to go to interstate 89." Now that makes sense, but which way of I-89, north or south? In this area of New Hampshire some interstate exits only go in one direction. So I asked her, "north or south?" She said "south." OK, now I can give her complete directions. I told her to go up the curve and turn left and drive until the stop sign. Then turn LEFT at the stop sign and the road would take her to I-89 south. If she were going north then she would have to turn RIGHT.
This instance makes me think, Do we make clear to God, angels, or the universe exactly where we want to go? Do we only tell the divine a half way? Do we just pray or wish for a place of nowhere so we never get somewhere, let alone a place of destination?
Enya's song, "Pilgrim," came to me:
…

One way leads to diamonds,
one way leads to gold,
another leads you only
to everything you're told.
In your heart you wonder
which of these is true;
the road that leads to nowhere,
the road that leads to you.

Will you find the answer
in all you say and do?
Will you find the answer in you?
…
There is a saying, "Don't follow somebody, because you only see the person's back." True, If we don't know where we are going we are just making circles and wasting time and we ended up following. We need to make clear what we want and where we want to go. 
That needs both mental and physical work. From my understanding of "Law of Attraction" and practice of "Angelic Seals" and "Light Language" I developed two effective tools for manifestation. I am creating web sites to teach these tools and I will post them shortly. Please check back soon.
Note: My first manifestation tool is now activated. Please visit my post Magic Folding for Manifestation.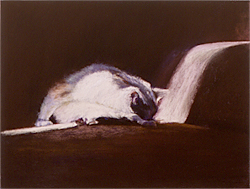 "Under the Skylight" – pastel painting by Maria Yu