Maria YuDecember 13th, 2006
After I set out my path on personal growth, spirituality, and healing modality I found it's not for everyone. It costs a lot. There are many classes. workshops, conferences and retreats but they are not cheap. It seemed to me in general the tuition for personal development costs the least then spirituality then healing, but there are lots of exceptions. The more "esoteric" the class is, the more expensive it gets. Personally I think "personal development" is a day-to-day cultivation and requires the "mind and body coordination" to make it happen, therefore, I found it's better to learn from reading and practicing. Presently there are many free on-line postings and less than $100 eBooks available (for example, Dr. Joe Vitale's ZState). Steve Pavlina's web site is really a good one, he writes from his own experience and it's free. Just to find out what's the cost for personal development I did a Google search by typing "personal development" and here is one of the paid-ads: The Fenix Event – two and a half days, course tuition $1,995, reviewer tuition $200. Nowadays, it's popular to offer discounted rate for "review," people seem to forget what they learn?
I have not heard about this above program but there are established institutes and centers I have learned about or gone to (Kripalu for animal communication and Rowe for sound healing conference) which offer a variety of personal development, spirituality and healing courses.
There are a few healing techniques I got interested and they claim to be powerful and effective:
This last class I am just not quite sure about the cost and channeling. It's hard for me to believe Jesus would want to charge a one day class for $700. It is more inclined for me to believe that he would want more people to learn it rather than less.
There are some "newer" healing modalities I encountered recently:
Adept, 2 days, $495
Adam Kadmon, weekend $495
Intra-dimensional Webworking, 2 weeks $3,920
Diveine Intervention and Spontaneous Remission, 2-week intensive $6,401
Someone please tell me they really really work miracles.
I had taken Reiki I and II from a teacher who decided not to join the Reiki Alliance. She believed more people should learn Reiki and the Alliance's cost guideline was not for everyone. Her tuition was about half of the standard. That brought out a good point. Don't we want more people to become integrated and healthy so the world and the Earth would be a more peaceful and joyous place? Or is it because people have a false perception that expensive means good?
Even the tuitions at these established institutions/centers are reasonable, still the cost is not everyone can afford or would want to spend. So who goes to these classes, workshops, conferences or retreats? The people I met at classes that I went to didn't all seem to be wealthy wealthy people. They might be just like me who has a great interest in spiritual growth and wants to learn to heal. Maybe it is like in the IRA structure that the middle-class bears the burden so is us, the middle-class in "spiritual growth" who sustains the human evolution?
One thing I observed was that people "rely" on teachers, people lean on "gurus". When they find one or some they stick with the teacher(s) and think their growth and healing all depend on the teacher(s). Many people don't seem to have the confidence to make what they learn to be their own. They keep going to classes or sessions and they go back for "review" and "reactivation."
For me I want a teacher to show me the way then I am able to do it myself and walk on my own journey. It seems to be like taking art classes. After taking some art classes it's better to quit taking classes and develop your own way. I had taken three pastel workshops from three renowned pastelists. This famous third teacher charged $900 for a 5-day workshop in 2004, and he only stood by me two times. I listened to what he said to an assistant who went to the workshop year after year. He told this student assistant what I had discovered when I was painting on my own at home. I said to myself, that's it I am on my own.
Not every artist can teach or teach well and it seems to apply to teach spirituality and healing. Not every practitioner can teach or teach well. The two teachers from whom I took animal communication and Hsin tao movement criticized students a lot, which I didn't think to be appropriate.
Now as an earnest learner in healing I need guidance and directions. How to justify the tuition cost is one thing, where to find a real teacher is another. I know I want to learn energy healing, animal healing and multi-dimensional healing, and I want to develop my intuitive abilities and connect to spiritual guides and higher dimensions. If you have any thoughts about the topic please comment on it. If you have taken a good class or know of a good teacher please let me know.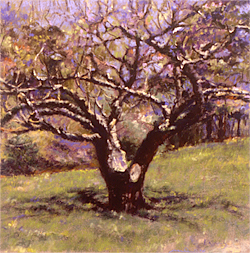 "As I Wish" – pastel painting by Maria Yu
Center Pointe – Instant Meditation