Maria YuNovember 25th, 2006
I thought I was quite content in solitude until I moved to New Hampshire and worked in Vermont then I knew about loneliness. I realized that loneliness and solitude was just one hair line apart.
Before I moved to NH-VT I lived in Glenview and Evanston, IL and worked in Chicago for some years. It was more of a urban and suburban life. I went to Church religiously and had my quite time with God regularly if not daily. I had my sister and friends there and we would do things together on weekends and holidays. From time to time these friends would call to say hello or to talk about their happenings. However, I felt I needed more time and scenery to paint. It's pretty flat in my surroundings. Once I got on the main roads, then there was traffic. I longed to be away and be in the mountains. So when an opportunity came for me to move to NH-VT I took it.
It was very pretty in New Hampshire and Vermont. There were even trees in the middle of interstate highway 89 and 91. I drove around country roads and visited small towns and took pictures. During the Fall foliage season I drove along rural routes and breathe in all these radiant colors. After a day's drive, when I closed eyes to sleep I saw mountains in reds and oranges.
Until the Sun set early and Winter crept in. Things quiet down after 5 PM around here and it's pretty dark in my area. There were just a spotting number of light poles and there was not a traffic light in my town. When I got home after work the minute I entered the house a feeling of sadness arose from no where in the dark. I didn't know many people around and only had a certain degree of human contact at work. People in New England seemed to be different from mid-west.
Then two weeks before Thanksgiving I got a big cut on the ankle. That Sunday I painted a rose from a picture of my sister's garden in Glenview. I was amazed at how vividly I painted it. Still in my excitement when I was cleaning up, I didn't pay attention to the sharp edges of the floor lamp and got a deep deep cut on the right ankle. It bled heavily. I could not move and eventually made my way to the bathroom. I put my foot in the sink and the white sink turned red. I poured my Chinese herbal powder (good for stopping bleeding) over the cut again and again until finally the bleeding stopped. It was painful. Unfamiliar with the medical facilities in the area I couldn't find a clinic available for immediate treatment when the week started. I used more herbal powder. However, the cut got red and swollen. Finally a nice lady at work told me to go to a walk-in clinic so I went there a week before Thanksgiving. The lady at the registry asked my who my contact was, my eyes got wet. I had no contact in the area. I told her I had to give her my friend in Illinois. (My sister moved back to Taiwan then.) The physician was surprised that I wore shoes but did not wear socks. (How could I wear a sock over my wound?) She literally wrote down on my medical record that "She wore shoes without socks!" I was amazed. My recheck was on Thanksgiving day, it was an icy cold day.
That winter was record cold and record snow in years in New England. A severe snow storm hit us on Christmas day. The temperature was continuously negative for over 10 days for quite some time and it snowed a lot, not measured in inches but in feet. There was icy rain too. I didn't have a garage so the rain and snow would seal my car and made me unable to open car doors in the morning. Everyday and everywhere was white. And more white. No Christmas lights, just dark. When I drove on the valleys and hills all I saw was white, gray and empty.
In the midst of that winter and afterwards when I saw pictures of snow scenes, white mountains or white forests, I didn't feel serenity at all. I felt loneliness.
I never thought I would feel lonely as I have so many things to do and I live a content and contemplative life. But that winter being alone in a new place, though with my rabbit and cat, I understood what loneliness was. That experience had grounded me and made me stronger. I am in solitude now and I know how to shift from loneliness to solitude, if that ever comes up.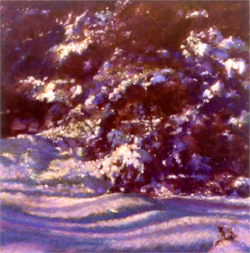 "December" – pastel painting by Maria Yu