Maria YuDecember 8th, 2006
When I was growing up in Taipei, Taiwan, I didn't receive gifts for Christmas. There were maybe two Christmases when my uncle and aunt played Santa Claus and put candy canes and toys outside of our front door on Christmas eve. My sister and I were excited to find the gifts on Christmas morning. Actually, my uncle and aunt called to tell us to go outside to fine them. Real Christmas trees were only available for a few years when I was growing up and my family would have one for Christmas. Somehow for my sister and me and for people at that time, Christmas seemed to mean to send out Christmas cards to family and friends.
We did, however, got red envelops for Chinese New Year. There was money inside the red envelops. One custom of the Chinese New Year is for the elders in the family to give red envelops to unmarried young adults and children. Younger children who do not yet know how to handle money have to give the money to their parents to save or buy things for them. Older children get to keep the money and use the money however and whatever they like. Another custom of the Chinese New Year is new outfits. Parents and children go shopping for new clothes. They wear new outfits to company parties (children are welcome) and they show off on days of the Chinese New Year celebration.
My sister and I pretty much spent our money in the red envelops on books. Traditionally all the stores are closed for four days in celebration of the Chinese New Year. On the fifth day the stores grand open with fire crackers and dragon dances. On that fifth day my sister and I would go to a bookstore castle to buy books. It was a castle because it hosted multiple publisher vendors. These publishers did a great job in publishing well translated American and European literature. These literatures introduced me to an imaginative land.
My first year in the US as a graduate student I received a quite sophisticated Christmas gift from my host family. Another year I was with an American friend and her big family and I saw how significant people value gift giving for Christmas. It felt like Chinese New Year to me.
During our graduate student years in the US my sister and I followed the Christmas custom and gave gifts to each other though in a smaller scale. I remember the first gift I gave her was a handmade wool ornament, two girls hand-in-hand with Christmas gifts in their other hands. Then we became young professionals and on Christmas eve we would get together with other young adults who had no family here in the US. We either went to children's Mass early in the evening or to midnight Mass. We did simple gift giving and I found these items to be more popular:
There is a classic Christmas story about a young couple who didn't have money to buy gifts for each other but they really wanted to give the best to the other. The wife had long silky hair while the husband had a unique watch but with a worn band. So the wife cut her beautiful hair and sold the hair to buy a fine watch chain for her husband. The husband, on the other hand, sold his watch to buy an elegant hair comb for his wife because he considered his wife had the most beautiful hair in the world. Then on Christmas day they found that they both gave up their best for the other.
So Christmas gifts are to give the best to others, something good for now and into the future. The red envelops the elders gave me had made me a keen reader which subsequently blessed me with knowledge and imagination. Truly Christmas and Chinese New Year are to give and to receive. To give is to love. To receive is to give thanks and be grateful. For me this is what Jesus did.
Jesus came and showed us unconditional love. And I think he showed gratitude too. He always gave thanks to his Father, God the creator. Every time before he multiplied fish and bread he expressed gratitude. This made me believe that if we want to multiply we need to know gratitude first.
Jesus did service too. He healed, taught, and gave life. It is said in the Bible that without God's permission those kings and governors would have no power. I think they were given power to do service. Wealth, authority and power are given as a privilege to do service. Service to human, animals and our planet. More power more service.
Children love to have Christmas or Chinese New Year every day because adults are kind, nice and generous during that time. Why not? The world would be a much better place to be if every day were Christmas or Chinese New Year. Everyday if we could just be kind to others and to ourselves, if we could give something good and if we would receive with gratitude, then we are giving and receiving Christmas gifts and red envelops, and their effects are well into the future.
……………………………………………………………………………………………….
A traditional Chinese New Year dish is Rice Cake. I found the following recipe from Google search by typing "chinese rice cake". Both the first and second search result give this same recipe. There are more varieties in the search results.
Chinese Rice Cake (Nian Gao)
Most Chinese New Year dishes have names that sound like good or fortunate things, e.g. fish (Yu) for abundance and New Year rice cake (Nian Gao) for advancement.
The rising effect of the cake during baking symbolizes advancement (Gao Sheng) so it is no surprise that parents will urge their children to have Nian Gao during the Chinese New Year. Below is the recipe for the Chinese Rice Cake or Nian Gao. Try it and may you have advancement year after year (Nian Nian Gao Sheng)!
Here is the recipe of making Chinese Rice Cake (Nian Gao):
1 lb. Glutinous rice flour
1 tsp. Baking soda
2 cups Sugar
3 Eggs
1 tbs Vanilla extract
2.5 cups Milk
0.3 cup Vegetable oil
1. Beat eggs with sugar and slowly add glutinous rice flour and milk.
2. Stir the mixture until the ingredients are fully blended with each other before adding baking soda.
3. Add oil gradually while stirring continuously.
4. Stop when oil no longer appears as a separate layer from the rest of ingredients.
5. Add vanilla extract last.
6. Stir and make sure there is no air bubble.
7. Apply some oil at the bottom and sides of the baking pan before pouring the dough into it.
8. Bake at 350 deg F for 50 minutes.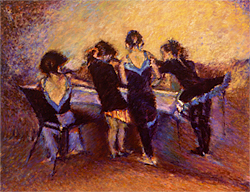 "You Know …" – pastel painting by Maria Yu
StrawberryNET Top 20 Specials for X-Mas! Free Shipping!