Maria YuFebruary 24th, 2007
"There is no should and shouldn't. They are only in your imagination."
This morning I had a quick glance of "Conversations with God"
by Neal Donald Walsch and the above phases popped to me.
That's right. In Christian beliefs, humans were created with free will.
If we were created with free will then God did not impose should and shouldn't on us.
He did give us "talents" (Matthew 25) and "pounds" (Luke 19) to trade and He expected to see gains.
So we have a full life to experience and explore, most importantly, to make it according to our will.
We get want we want, there is no limits to it.
…………………………………………………………………………………………………………………………………….
Last night I watched the film "Conversations with God" from the same titled book.
Neal Donald Walsch became homeless and lived in a camp with homeless people. He was able to get out that camp and start a new life. He questioned God hard, and the answers he received made him an acclaimed author, with wealth.
Those people who became homeless before him remained homeless and got "removed" from the camp because the land was sold.
What made the difference?
I think it's because Neal Donald Walsch had a will.
He knew he was not going to stay in the homeless camp forever and he sought out opportunities.
He didn't drink.
He got out the camp to set up his new life when he could.
And he had a will to question God and ask for answers.
He got help from people along his journey.
People helped him because they saw him wanting to get on his feet.
(A reminder for us to help those who have a will and strive to be good.)
…………………………………………………………………………………………………………………………………….
Seems like most often we question God when we are in despair, not when in joy.
Suffering is a mystery, so is miracle.
Why we question suffering but not miracle?
Even the influential Christian writer C.S. Lewis (author of "The Lion, the Witch and the Wardrobe"
) questioned God when his beloved wife, Joy Gresham, died. In his journal, "A Grief Observed,"
Lewis confessed his doubts and found again the way back to life:
"If God's goodness is inconsistent with hurting us, then either God is not good or there is no God: for in the only life we know He hurts us beyond our worst fears and beyond all we can imagine."
"I have gradually been coming to feel that the door is no longer shut and bolted. Was it my own frantic need that slammed it in my face? The time when there is nothing at all in your soul except a cry for help may be just the time when God can't give it: you are like the drowning man who can't be helped because he clutches and grabs. Perhaps your own reiterated cries deafen you to the voice you hoped to hear."
"To see, in some measure, like God. His love and His knowledge are not distinct from one another, nor from Him. We could almost say He sees because He loves, and therefore loves although He sees."
…………………………………………………………………………………………………………………………………….
When I was preparing this week's eternal expression post, A Tribute to Tagore, I was drawn to Tagore's words:
"I have become my own version of an optimist.
If I cant' make it through one door,
I'll go through another door – or I'll make a door."
As Tagore believed, "God, the Great Giver, can open the whole universe to our gaze in the narrow space of a single land," so he believed he could make himself a door.
Tagore knew there were no should and shouldn't imposed by God.
"Asks the Possible of the Impossible, 'Where is your dwelling-place?' 'In the dreams of the Impotent,' comes the answer."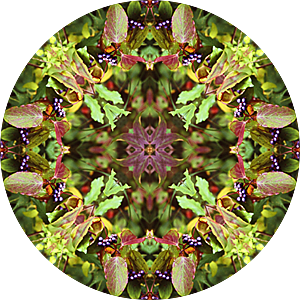 The Free Will Mandala by Maria Yu