Maria YuFebruary 5th, 2007
Coming back from a workshop I feel a bit of lost, not lost lost, but lost as being in a different conscious/perspective level or lost as if returning to the birthplace after a long journey and trying to put pieces together.
The workshop was about Rosicrucian spiritual practices. Rosicrucianism has two common meanings:
1. The path of western spiritual science;
2. The spiritual initiation tradition of Christianity.
I realized Rosicrucian traditions were the Christianity I knew about, learned about, and practiced when I became a Catholic in college. There were Jesuits organizing and guiding college Catholics throughout Taiwan. They were from Spain and France. I now think these Jesuits taught me some spiritual practices of the Rosicrucian traditions.
I didn't even know the word Rosicrucian before deciding to go the workshop, but now I feel I am back to my birthplace picking up pieces.
Another feeling of lost is about re-positioning.
To re-position myself in the search on the spiritual path.
I guess sometimes we need to be lost in order to find new directions.
Or to be re-newed.
…………………………………………………………………………………………
I met quite some good people at the workshop. They were all different and each one had her/his own experience. What's common in us all was the desire to learn and the search of knowing. Yes, people want to understand spirituality and practice mysticism. There indeed is a need for an adult education program in metaphysics.
Another reason for my feeling lost might be that as now I found lots of information and resources (Jean MacManus has an informative site with effective exercises) I can get into I feel not having enough time to study them all quickly and gain the skills in no time. It takes time and practice to develop.
…………………………………………………………………………………………
When I wrote "The Magic Monastery" in December 2006 I had a feeling that the monk Theophane
must have known and studied Sacred Geometry and the ancient/early spiritual and mystical teachings. If the Jesuits had known about Rosicrucian then the monks likely had had.
…………………………………………………………………………………………
Mystics at Prayer:
St. Augustine
LORD, teach me to know THEE, and to know myself.
O God, where was I wandering to seek THEE?
O most infinite Beauty, I sought THEE without,
and THOU wast in the midst of my heart.

LORD, when I look upon mine own life it
seems THOU hast led me so carefully, so tenderly,
THOU canst have attended to none else; but when
I see how wonderfully THOU hast led the world
and art leading it, I am amazed that THOU hast
had time to attend to such as I.

Grant us to know THEE and love THEE and
rejoice in THEE. And if we cannot do these perfectly
in this life, let us at least advance to higher
degrees every day till we can come to do them to
perfection.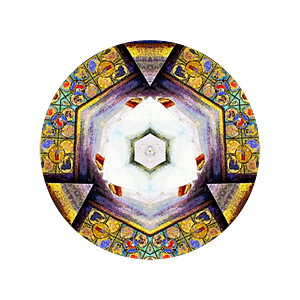 The Communion Mandala by Maria Yu 
Buy Roses