Maria YuJanuary 7th, 2007
Today I am so happy to announce that my idea for creating a web site to display interactive quotes for daily inspirations has been completed and activated. The web site is: www.chalk-on-a-sidewalk.com.
I got this idea from watching the short film "Chalk," written and directed by Matthew Johnson. This short film was included in the December 2006 DVD of the Spiritual Cinema Circle ("The Secret"
was the main featured film). The story was about a discouraged lady who got inspired by the chalk drawing and message that mysteriously showed up on the sidewalk each day. She found hope from these daily messages and created her new life.
Our thoughts and feelings create our life.
We become what we think about.
Energy flows to where our intention goes.
Choose to focus on possibilities.
We can begin where we are.
Everything is right from here.
I wanted to show at least one inspirational quote, thought, or poem a day. I also would like to have a way that the reader could interact with the messages. I did some research and testing and finally got it to work – Interactive Kaleidoscopes!
At www.chalk-on-a-sidewalk.com you will see the original message, which is created in graphic format (jpeg), along with its transformation of a constantly changing kaleidoscopic animation. When you move your mouse over the animated kaleidoscope, the kaleidoscopic message changes according to your motion.
My intention is to bring joy, happiness, hope, and all the good things to you and your family, animals included. May you start your day, and everyday, with inspirations and new possibilities!
You are welcome to send me inspirational words, I will make them into animated kaleidoscopes and post them.
Please have a visit!
www.chalk-on-a-sidewalk.com – Daily Inspirations with Interactive Quotes!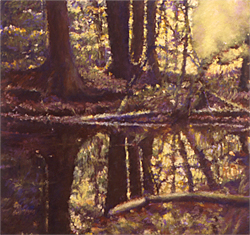 "Enchanted" – pastel painting by Maria Yu