Maria YuJanuary 25th, 2007
What is Beauty?
In Wikipedia:
"Beauty is a quality of a person, object, place, or idea that provides a perceptual experience of pleasure, affirmation, meaning, or goodness. The subjective experience of 'beauty' often involves the interpretation of some entity as being in balance and harmony with nature."
"In its most profound sense, beauty is said to engender a salient experience of positive reflection about the meaning of one's own existence. An 'object of beauty' may be anything that reveals or resonates with personal meaning."
In Dictionary.com:
"Beauty is the quality present in a thing or person that gives intense pleasure or deep satisfaction to the mind, whether arising from sensory manifestations (as shape, color, sound, etc.), a meaningful design or pattern, or something else (as a personality in which high spiritual qualities are manifest).
In American Heritage Dictionary:
"The quality that gives pleasure to the mind or senses and is associated with such properties as harmony of form or color, excellence of artistry, truthfulness, and originality."
I saw "quality," "meaning," "balance," "harmony," "positive reflection," "existence," "personality of spiritual qualities," "truthfulness," and "originality." These are all manifestation of the inner.
So beauty is rooted in the inside.
I read that prior to age 35 one's appearance is determined by one's parents, after 35 it's up to oneself.
To look beautiful we will have to start from the inside.
A lot of times when I look at art work, I can get a glance of the artist's personality or characteristics. What's inside of us do reveal in the outside, especially in self-expression. And self-expression is the drive for human existence. And beauty is about the meaning of existence. So self-expression is a drive to reveal the beauty inside of us, and beauty is a positive reflection of our genuinity.
The Divine Proportion
and Phi Ratio
of Sacred Geometry
show the harmony of beauty imprinted in the human body, plants, animals, nature and all. We are planted with a seed of beauty when we were created. We just need to recognize this seed of ourself and germinate and grow it.
Look at the people who have succeeded in self-expression, how radiant they are, how confident they are, and how beautiful they are!
They have grown their seed of beauty into blossoming.
The journey of self-expression would have to start with appreciating who we are and applauding our own unique beauty.
When one is able to see one's own beauty, one shall see the beauty in others, since we are all one.
Coleridge's idea of beauty:
The Beautiful "is that in which the many…becomes one."
Beauty is "multeity in unity."
"That which is not pleasing for its own sake, but by connection or association with some other thing, separate or separable from it, is neither beautiful, nor capable of being a component part of beauty."
On Beauty by Gibran:
"Where shall you seek beauty, and how shall you find her unless she herself be your way and guide?
And how shall you speak of her except she be the weaver of your speech?"
…
"And beauty is not a need but an ecstasy.
It is not a mouth thirsting nor an empty hand stretched forth,
But rather a heart enflamed and a soul enchanted."
…
"…beauty is life when life unveils her holy face.
But you are life and you are the veil.
Beauty is eternity gazing at itself in a mirror.
But you are eternity and you are the mirror."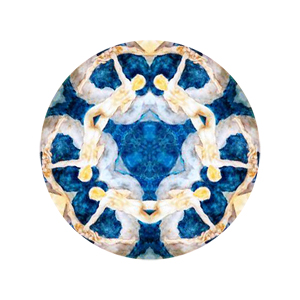 The Archer Mandala by Maria Yu