Maria YuJanuary 21st, 2007
I am certain my fourteen-year-old cat, Poplar, died because of vaccinations.
I was to be away for two weeks in the winter of 2005 and didn't know of a good pet sitter. It was also a concern about losing electricity during those days since that happens a lot in my community whenever we get heavy snow or strong wind. So I sent Poplar to a cat kennel. The kennel required all shots up to date. I consulted the vet and she said that was not a problem. In two visits within 19 days, Poplar had Rabies, Leukemia, Rhino/Calici/Dist and their boosters. I did voice out my concern about giving all the shots together in one day but was assured that was OK. Actually the vet thought I was making a fuss.
After all the shots Poplar was not herself. It was like getting a flu or something and her health started to deteriorate. Poplar first had blood in her urine then she had difficulty breathing. The irony was that she was at the vet's on Friday the whole day for getting urine samples and the vet didn't pick up her breathing problem. I rushed Poplar in for emergency the next day. All the vet could say was, "we are sorry she's had shadows in her lungs" and they charged me for full emergency visit.
From 2002 to 2006 since I moved to New Hampshire I had encountered 9 vets in the New Hampshire and Vermont area for my rabbit and cat and I doubt each one's professionalism (two of them were holistic vets but weren't better). The conventional vets only know to use drugs, antibiotics and shots. One vet in Norwich Vermont whom I visited for Poplar's annual check in January 2003 gave her a Rabies vaccine that was to expire in 9 days. Didn't they have something fresh?
I felt I killed my own cat.
I looked for an answer.
I wished I had read this book, "The Nature of Animal Healing"
by Martin Goldstein. In chapter 4 Dr. Goldstein talks about the dubious legacy of vaccines. He describes in details the illnesses caused by vaccinations. He likened the full vaccination requirement imposed by kennels even for older pets as if "a one-hundred-year-old woman had planned a two-week stay at a seaside hotel, only to learn that before she checked in, her doctor would have to vaccinate her for chicken pox, smallpox, polio, and flu-at the same time!"
Dr. Goldstein's chapter of The Dubious Legacy of Vaccines also addresses the concerns for human vaccinations.
"Be a good human, never vaccinate me when I'm sick!" A lot of valuable information about animal vaccinations can be found at Pet Guardian. Currently a "Rabies Challenge Fund" has been set up to do a long-term Rabies Vaccine study.
There are two books specially talk about animal vaccinations: "Stop the Shots!: Are Vaccinations Killing Our Pets?"
and "Shock to the System: The facts About Animal Vaccination, Pet Food and How to Keep Your Pets Healthy."
In her vaccination newsflash Dr. Ihor Basko wrote, "all 27 veterinary schools in North America are in the process of changing their protocols for vaccinating dogs and cats. Some of this information will present an ethical & economic challenge to vets, and there will be skeptics…, the doctor's economic well-being should not be a factor in medical decision."
Finally the truth about animal vaccines are reaching the public.
I wish I had known it.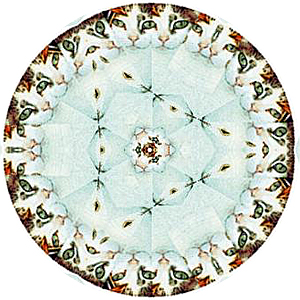 Poplar Mandala by Maria Yu