Maria YuDecember 24th, 2006
On my drive back home from a Christmas party hosted by a spiritual teacher for her students and friends, this story of crystal ball came to me. This story is from "Tales of a Magic Monastery"
written by Theophane the Monk. In this book there are 42 tiny stories of one or two pages long, yet each tiny story makes me ponder for one hundred folds of it's length and beyond.
The crystal ball story is about "me" going to a monastery and having a glass of wine given by a monk. After drinking the wine "I" felt a crystal ball arising and encompassing "me". The crystal ball expanded rapidly to enclose both the monk and me. "I" then saw the monk become extremely beautiful. The monk was ordinary just a minute ago but now he is magnificent inside the crystal ball. "I" wanted to tell the monk how beautiful he is, but "I" could not speak a word. After this happening "I" was surprised that when anyone "I" ran into accidentally entered "my" crystal ball "I" saw them become magnificently beautiful and "I" knew this beauty was absolutely true. "I" asked myself if this is the real meaning of being a monk – to see the beauty of other people and keep silent!
The first time I read this story and the book was in 1988, a Chinese translation version. I wondered what this magic wine was and still I wonder.
Is it the Holy Communion I receive at the Eucharist?
Is it the compassion or respect I have for people?
Is it the "colorless" glasses I wear or change of my perception?
Or is it the Christ Consciousness?
The crystal ball now has a new meaning for me after I learned Merkaba meditation and sacred geometry. It seems to be the unconditional love we hold in our human light body expanding from the prana sphere to sphere of Leonardo.
I don't fully comprehend "keep silent" yet.
Does that mean when I see the marvelous beauty of other people I should not tell them?
So they do not get overwhelmed? So they can preserve and keep growing that beauty?
………………………………………………………………………………………………………………………..
I met Karen at the party and we talked about doing healing for people and we asked ourselves what it is in life that we are looking for to feel meaningful and fulfilled. Now this tiny story in "Tales of a Magic Monastery"
came to me – What do they need?
"There is a monk in the magic monastery who does not give guidance but questions. People said that his questions may be useful sometimes. I said to the monk I am a diocese priest and I came to the monastery for a retreat, could you ask me a question? The monk said sure, the question is 'What do they need?' I was disappointed. I left the monk to think about this question for hours and I wrote down some answers. Finally I went back to the monk and explained to him that I am not interested in thinking about my parish work during retreat, I want to meditate about my spiritual life, I ask him to give me a question that's about my own spiritual life. The monk said, oh, now I understand, then my question is 'What do they REALLY need?'"
What do people need? What are Karen and I looking for that will make us feel we are contributing?
………………………………………………………………………………………………………………………..
Another story that came to me now is: Write my own bible?
"I forgot to bring my Bible with me to the New Year Eve retreat at the magic monastery so I asked the monk to borrow a Bible. The monk said, 'why don't you write your own bible?' He continued, 'write your own bible according to the chronicle order of the Bible, write your own stuff.' So I wrote my own bible and then lived my life accordingly for the following year. At the same time I wrote diary and recorded my experience during the year. That year was a wonderful year, I truly lived my life according to my own bible and my daily meditation was never ever so focused. It's been forty year since I do the same thing – every year I write a new bible and a new diary and throw them in the great fire at year end."
This seems to a good resolution for the New Year. Write my own bible and live accordingly. That could to be to write down my goals and intentions, and what/how I want my life to be then set out to work on them and manifest them. And to keep a dairy about how things come along (plus all the coincidences) and keep my focus.
………………………………………………………………………………………………………………………..
I certainly saw beautiful people and met kindred spirits at the party.
Before I went to the party I set a pure intention of having good friendships and my intention manifested.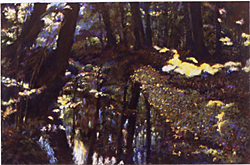 Into the Reflection – pastel painting by Maria Yu